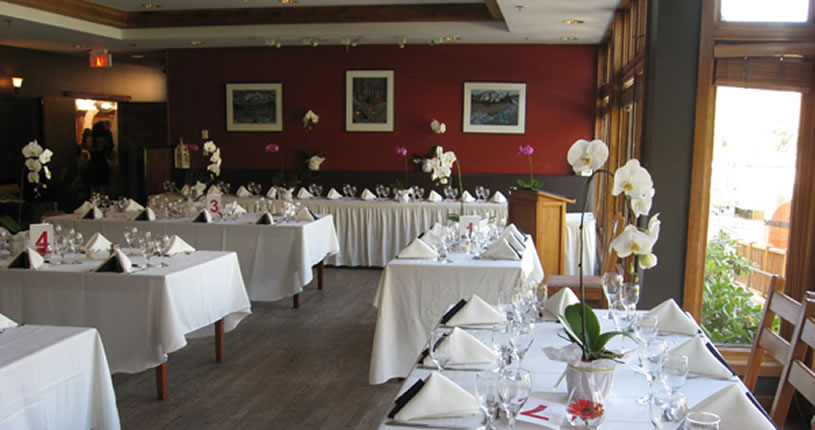 The Howe Sound Inn & Brewing Company is an ideal place to hold conferences, meetings and other special events. The Inn has 20 guest rooms, making it ideal for multi-day conferences, and boasts both a restaurant, which can accommodate 65 people and a Brew Pub which offers handcrafted ales and lagers brewed on the premises. Catering services are also available.
Facilities
Firebread Restaurant
Rustic open-plan restaurant with natural light and a full uninterrupted view of the Stawamus Chief and Mamquam Mountain. Complete with its own bar, this room is perfect for weddings and private events. This setting can accommodate up to 150 people banquet/buffet style and up to 100 people cocktail party style.
Garibaldi Room
Private and spacious room located next to our restaurant. A versatile room, which makes it a great space for any kind of personal event or business meeting. The largest of the three meeting rooms. The Garibaldi room is ideal for conferences, banquets, cocktail parties or presentations and can accommodate up to 80 people, depending on set-up requirements.
Skylight Room
Private room on our second floor, with natural light provided by, you guessed it, a large skylight. Meeting space is great for meetings, training seminars, presentations, small conferences or discussion sessions. The skylight room can accommodate meetings of up to 16 people.
Map Room
Private room on the second floor. Perfect for one-on-one meetings or small groups of up to 10 people.
20 Room Inn
Howe Sound Inn is a cozy twenty room hotel located downtown Squamish, with incredible views of The Chief, Mamquam Mountain and the Tantalus Mountain Range. A short walk upstairs from the Brewery, Brewpub and Firebread Restaurant will allow you to relax and spend more time exploring Sea to Sky Country, with endless outdoor activities right on your doorstep.
Amenities
Wireless internet
Photocopying
Full range of presentation and project equipment are available
Private meeting/catering rooms with no charge for events over $500
Discount on block room bookings for larger groups
Specialty packages including catering and customized menus.
Off-site catering
Brewery tours and tastings
Corporate retreats
Specialty baking including theme and wedding cakes
Personalized labels for private functions
For group or conference information contact:
1-604-892-2603 (local)
1-800-919-ALES (toll free)
hsibrew@howesound.com
Venue Details
Website
Phone
Capacity
Number of rooms
Kitchen Facility
Outdoor Space
604-892-2603
Up to 150
20
Yes
Yes
Location