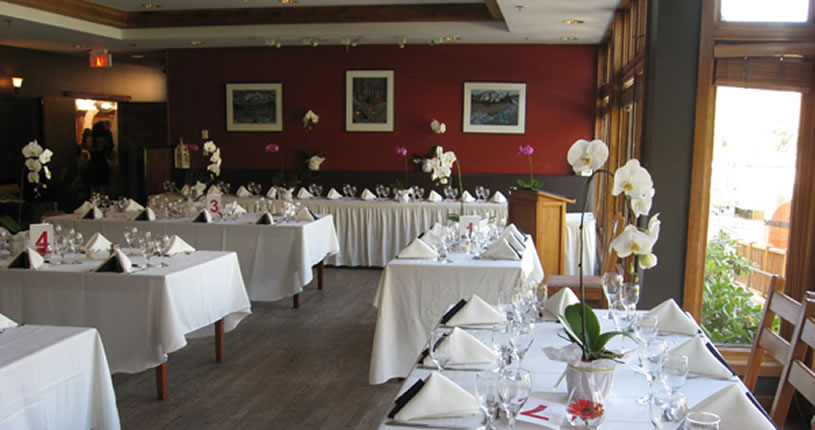 The Howe Sound Inn & Brewing Company is a ideal place to hold conferences, meetings and other special events. The Inn has 20 guest rooms, making it ideal for multi-day conferences, and boasts both a restaurant, which can accomodate 65 people, and a Brew Pub which offers handcrafted ales and lagers brewed on the premises. Catering services are also available.
Features and Amenities
Private meeting / catering rooms with no charge for events over $500
Discount on block room bookings for larger groups
Specialty packages including catering and customized menus.
Off-site catering
Brewery tours and tastings
Corporate retreats
Specialty baking including theme and wedding cakes
Personalized labels for private functions
Conference Facilities
Map Room
Located on the second floor of the Inn. The Map Room is the smallest of the three conference rooms providing seating for up to 8 people.
Skylight Room
Located on the second floor of the Inn. The skylight room can accommodate meetings of up to 12 people.
Garibaldi Room
The largest of the three meeting rooms. The Garibaldi room is ideal for conferences, banquets, cocktail parties or presentations and can accommodate up to 70 people, depending on set up requirements.
Services
Most rooms have wireless internet availability. Photocopying and facsimile services, as well as a full range of presentation and project equipment are available.
For group or conference information contact:
1-604-892-2603 (local)
1-800-919-ALES (toll free)
hsibrew@howesound.com
Venue Details
Website
Phone
Capacity
Number of rooms
Kitchen Facility
Outdoor Space
604-892-2603
Up to 70
3
Yes
Yes
Location