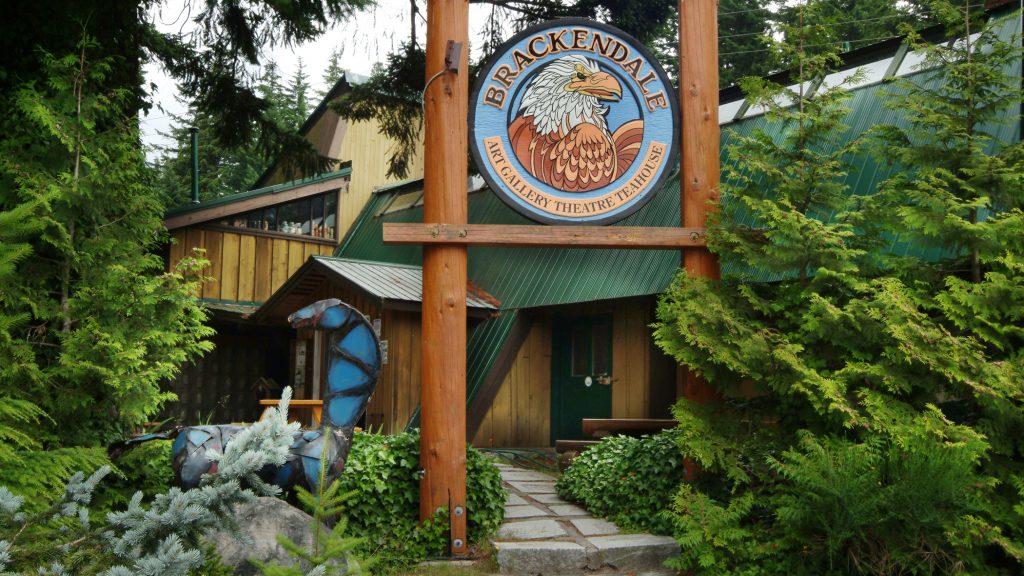 Located one scenic hour north of Vancouver, Brackendale Art Gallery has been the center for arts and community gatherings in the Squamish Valley for over 40 years. The Gallery offers licensed food service, gallery exhibits, concerts, live theatre, workshops and facilities for meetings and celebrations.
Facilities are available for club meetings, business meetings, public meetings, dinner or lunch meetings, birthdays, weddings, family reunions, potluck dinners, tours, among other occasions.
Facilities
Main Hall
The rustic and beautiful main hall has a capacity of 150 for performances and 100 for catered celebrations and events. The restaurant kitchen includes a 4 burner professional stove, two large ovens and other amenities for your caterer, family or group to use.
The 10′ screen and digital projector are available for your presentation.
The Brackendale Art Gallery Chapel
This beautiful space seats about 50. The property is also available as a film location, wedding venue, memorial celebration or for other special occasions.
Amenities
Wood and metal shops suitable for workshops
Meeting space/teaching studio for 10-12 people
For group or conference information contact:
Dorte Froslev
info@brackendaleartgallery.com
(604) 898-3333
www.brackendaleartgallery.com
Venue Details
Website
Phone
Capacity
Number of rooms
Kitchen Facility
Outdoor Space
(604) 898-3333
Up to 150
1
Yes
Yes
Location